Apple hasn't announced the date of its official  iWatch smartwatch launch, and people still continue offering design concepts to give the company something to think about along the way.
This time around, a very attractive iWatch concept was offered by Thomas Bogner. The Berlin-based engineer brings a very different approach to the long awaited and much rumored wearable device by Apple.
Bogner's iWatch features Siri-style voice input for apps like Mail, Messages, and Calandar, and Music control, and brings integrated Nike fitness software like Apple's iPhone and iPod touch with iOS 7 design language and features. The device offered by Bogner uses vertical and horizontal motion to switch between apps and status updates in a smooth, fluid way.
Cook is also known to wear the fitness-focused Fuel Band and has publicly praised the Fuelband on stage very recently: "I think Nike did a really great job with this."
The engineer described his product of the imagination as "basically like the bastard child of a Fuel Band and an iPhone".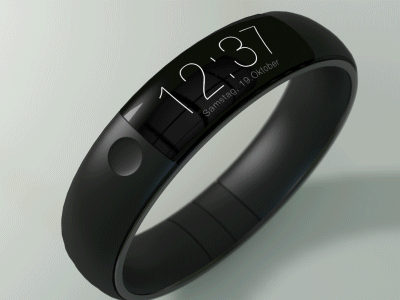 Thomas Bogner says about his concept: "I really liked the idea of wrapping the Interface around the wrist and have something like the clickwheel rotating around my arm. The main problem is, I love the form-factor of the fuel band but would it be practical to read more text than "GOAL" or even interact with it?»
9to5mac has even run a poll offering readers to vote on the best of different iWatch concepts, most of which look similar to a traditional watch. We've seen a number of iWatch concept designs, but this iWatch concept made by Thomas Bogner is probably one of the best.
There's still no indication as to what the actual Apple iWatch will look like or when it will be available for fans.